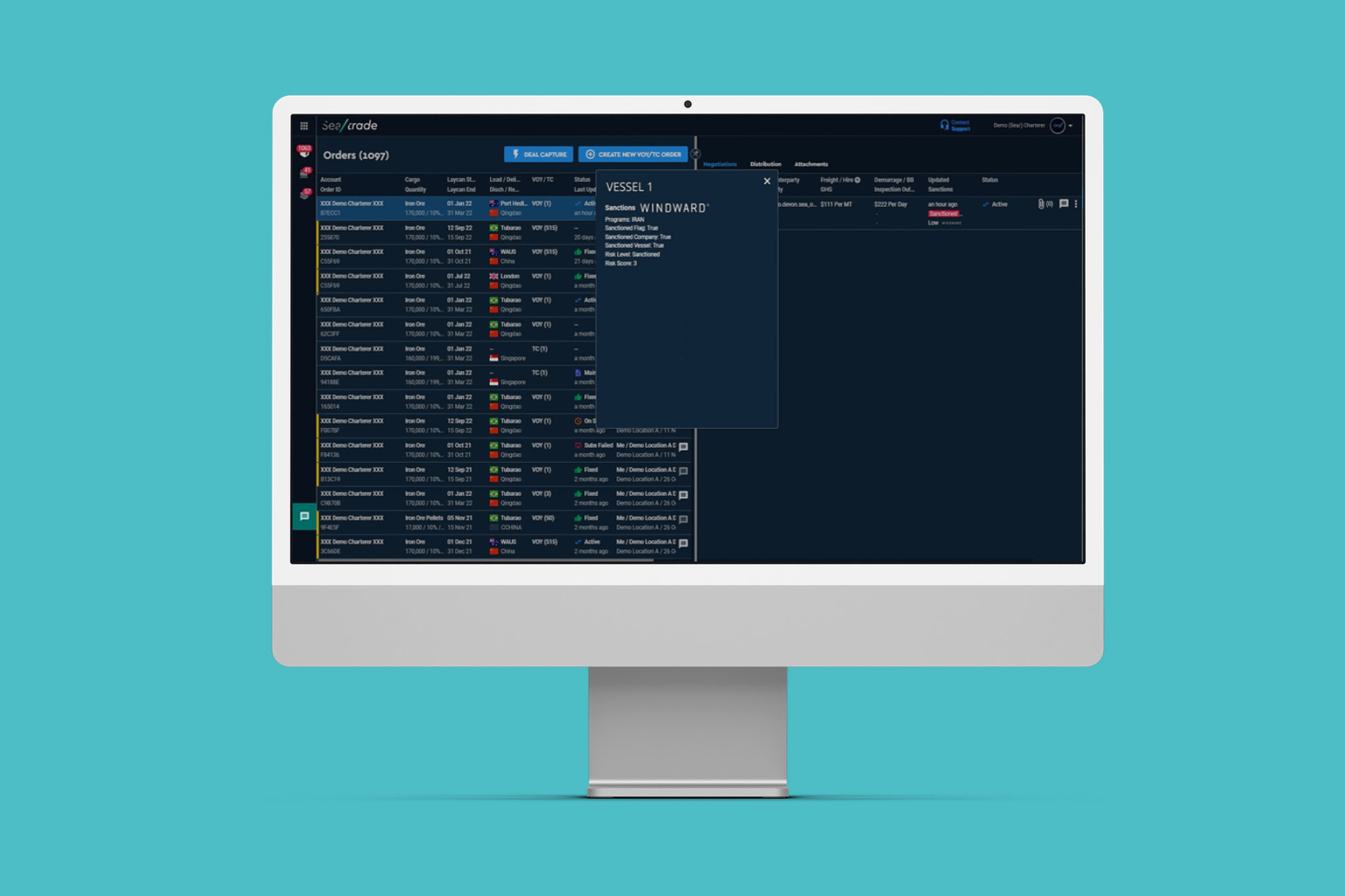 Sea, the world's first end-to-end digital shipping platform, has partnered with Windward (LON: WNWD), the Predictive Intelligence company applying AI to transform global maritime trade, to deliver a solution that allows customers to increase efficiency in pre-fixture negotiations by streamlining compliance and due diligence processes.
Vessels' risk scores now available on the Sea Trade platform
The partnership with Windward will allow Sea's customers to view a vessel's risk score within the Sea Trade platform. Customers can now charter with confidence by easily ensuring that they only pursue vessels that meet their specific sanctions requirements, saving time by having all relevant information on vessel risk available in one platform. Windward's risk scores are categorised based on deceptive shipping practises like Dark Activity, Identity Tampering, Loitering, and Meeting and Port Calls.
Sea Trade, the negotiation and fixture management tool, provides a compliant and collaborative deal capture for charterers, brokers and owners. Through a streamlined and controlled fixture management solution, Windward's integrated API will bring increased efficiency and transparency to the platform. Customers can make informed chartering decisions with immediate "go or no go" recommendations, saving them time by pursuing only the vessels that fit their unique requirements.
‌Alex Gray, Head of Commercial Partnerships at Sea said:
"The integration of Windward's AI platform within Sea Trade will empower our clients with further data and insight to assist them in their chartering decisions. Collaborating with Windward is a really exciting step for Sea/ and we look forward to the efficiencies it will bring."
‌
Ami Daniel, CEO and Co-Founder of Windward added:
"We are proud to partner with Sea, a leader in digital transformation in the maritime industry. Windward's Predictive Intelligence platform is essential for traders, charterers, owners, and brokers alike to go beyond compliance and digitalize their business for operational readiness and future forward decisions."
Notes to editors
About Windward
Windward (LON:WNWD), is the leading Predictive Intelligence company fusing AI and big data to digitalize the global maritime industry, enabling organizations to achieve business and operational readiness. Windward's AI-powered solution allows stakeholders including banks, commodity traders, insurers, and major energy and shipping companies to make real time, predictive intelligence-driven decisions, providing a 360° view of the maritime ecosystem and its broader impact on safety, security, finance, and business. The company is publicly traded on the London Stock Exchange, For more information visit windward.ai
About Sea
Sea is a suite of digital tools-for-trade for the maritime industry which enhance the way shipping professionals work. The Sea platform enables charterers, brokers and owners to make informed decisions and manage freight transactions from start to finish by digitising workflows. In doing so, it helps all involved to realise efficiencies and unlock commercial opportunities. This is smarter shipping.
Share this article
Don't miss the latest news and insights - subscribe to our newsletter